Submitted by jennajane on Mon, 04/14/2014 - 8:42pm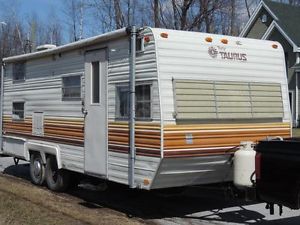 Hi fellow farm hackers, I am in the process of building and designing "The Ultimate Eggmobile". I thought I would try posting the build on Farm Hack forum as it progresses. I have posted a few other projects as wikis and find there isn't much participation, so if you have anything to contribute to this build / idea I would like to hear it.
First, a few constraints. Here in Quebec, Canada, the quota system will only allow me to have 100 laying hens without a quota. So I have 100 laying hens on order. I also want to follow Canadian Organic Standards, which means I can't have more than 6 hens per square meter (about 1.8 sqft / bird). I plan to move the birds every couple of days behind my small herd of veal cows (inspired by Joel Salatin), so it has to be mobile. I would also like it to be self-sufficient for 36 hours (this would allow me a night off the farm sometimes), so I want to include a lot of automation.
Housing I went out and bought an old 24' foot camper, which is about 8 feet wide, which gives me 5.6 birds per m2. Should I make part of the floor mesh or slated? This would make cleaning easier, but a solid floor keeps the heat in a lot better during our chilly winters. I can imagine parking the egg mobile inside a hoophouse in the winter, if we had the space. Our current greenhouse is usually full of crops year round. Other options?
Fencing I plan to use electric poultry netting in the style of Harvey Ussery, so I will need a power source. I was planning to use a 12v charger for the electric fence, a marine battery and a solar panel. This will also give me 12v power for other aspects of the eggmobile (e.g. I can turn on the lights in the camper!). I am looking for input on size of solar panel, size of battery and a good 12 volt charge. I am guessing I need a charge controller too. I also like the camper for this reason, because in the winter I can park it near the barn and plug it in and I will have 12 volt for the fence charger and 120 volts for heat lamps.
Water I have been using fountain style feeders for 2 years and really don't like them. I had success this past winter with the heated base to the fountain feeder, but this time I want to use nipple waterers, to keep the water cleaner. I ordered a 50 pack off amazon, and am thinking about putting them on the bottom of 5 gallon buckets, and then plumbing them to a central reservoir. Maybe put a toilet float valve in each bucket, maybe fill them on a timer with a 12 volt pump. I have also run water lines out in the fields for the cows, so maybe I can just have 200 feet of hose on the eggmobile and fill the buckets from the hose. I like buckets, because I think it is a nice place for chickens to gather, and I can use them in other applications easily (compared to a permenant pvc pipe style watering system. I am thinking I could have 2 buckets inside and 2 more outside each with 9 nipples to give me the recommended 3 birds per nipple.
Food Still trying to think of a good way to dispense the food. There might be part of the ration that is free choice (ie always present), but most of it will be a daily ration. I have been using hanging barrel feeders in the barn, and they work well, but I am wondering if there is something better. Also trying to imagine something that would hold a couple days supply and dispense it as needed. I really like any input on this.
Nest boxes I built standard nest boxes in my first coop, 3 high 5 wide, but find they only lay in a couple of the boxes. The hardest part is that they usually scratch all the straw out shortly after I put it in. I also need to decide if I want to make them accessible from the outside, so I wouldn't have to actually go in to collect the eggs. I will have to look up how many nest boxes I need.
Roosts Currently I have a caged off area under the roosts, which collects most of the poop, I like this idea, but am still a bit unsure how to do it to make cleaning easy.
Well that's a pretty good intro for the project. I will try and keep this updated. Hopefully things move pretty fast, the birds show up the 6th of May!
Jenna