Submitted by Joel_BC on Fri, 11/17/2017 - 12:31pm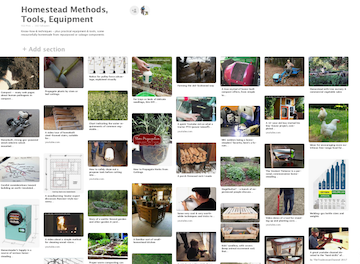 I started a Pinterest board concerned with rural "methods, tools, and equipment," and it's currently updated to edge toward 1000 practical-site links. The "pins" (descriptive entries with pics) link to sites explaining methods, technologies, repurposing options, and tips of potential value to small farms and to homesteads.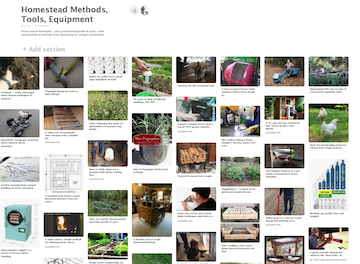 https://www.pinterest.ca/joelbc/homestead-methods-tools-equipment/
My intent is to put forward, to interested people, links to sources of valuable information that might otherwise remain unknown to them and perhaps difficult to locate. My board is not a "wannabe's list"—I have several decades of experience working in rural environments, and I've owned and lived on rural land for a long time. Most of the items reflect (or express) my own experience. Others lie so near my experience that I feel confident in posting them and consider them "the real deal."  I'll mention that the FarmHack site is one of the first pins I made to the Pinterest board.
(You need a Pinterest membership to properly view the board.)  I'll keep adding to the images/websites I've posted to the board as time goes on.  I would also encourage others reading this to consider starting boards. It's a simple process and can broaden the exposure of information you know about and ideas you have. But you can be a member of Pinterest without starting aboard.