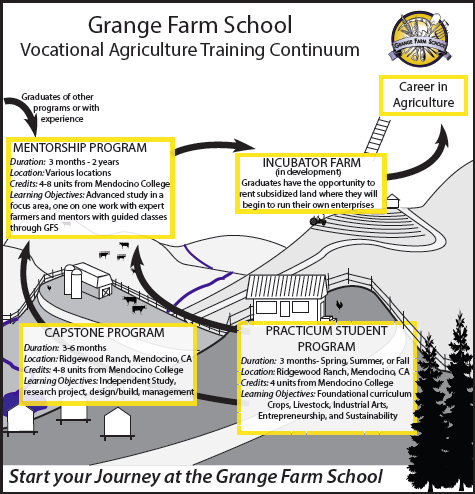 There are only a few openings left in the 2015 Grange Farm School Practicum Student Program, a 3-month residential program for aspiring farmers.
The next session starts June 1st and will give students the opportunity to guide the farm through its first months of growth, maintain a succession of diversified livestock for meat and eggs, work with urban gardeners in nearby Ukiah, and build the foundations for this community centered non-profit. Field work is complemented by lessons on topics from plant propagation to composting, raising chickens for eggs and meat to marketing and business skills. Field work during the June term will focus on irrigation systems and the timing of planting for fall and winter harvests, as well as rotational livestock operations. During the next session, September 1 through the end of November, students will take part in harvesting, processing and marketing produce, grains, and orchard fruit, as well as cover cropping, seed saving, and pasture development.
The Grange Farm School's Practicum Student Program aims to prepare the whole farmer, with a curriculum covering agricultural production skills, industrial arts, marketing and business skills essential to a profitable farm. Practicum Students earn college credits for internships through Mendocino College, and have the option to live on site. They may enroll in a second session for further independent work on a Capstone Project or for mentorship with a local farmer.
Students accepted to this year's program will have the unique opportunity to participate in the start-up phases of a working farm and non-profit educational project. The work completed by students will provide in depth and experiential knowledge of the challenges that go into creating a new farm or program from scratch.
Expectations: Practicum students will work an average of 25 hours per week in experiential learning projects on the farm. Mornings and afternoons will involve supervised field work, early afternoon will be devoted to lessons with guest instructors and staff. Field trips to neighboring farms will be an important component of the curriculum, as well as connection to mentors and experts in the area. Students are required to participate in all phases of the program, including shifts at weekend chores and shared kitchen and other housekeeping duties. Concurrent enrollment in Work Experience Education program with Mendocino College or a similar program is required. The Grange Farm School will cover registration costs at Mendocino College.
Tuition is $2,000 per 3-month term, and many scholarships are available. Students have the option to live on-site for $1,000 per 3-month term. Housing includes a shared kitchen, bath, library, and commons. Students are provided with individual sleeping space in wall tents on platforms surrounding the house. Food will include basic staples and farm goods for three meals per day. Cooking and cleaning chores will be shared.
Term 1: March-May
Term 2: June-August
Term 3: September-November
Capstone Projects: After one 3-month term of foundational learning, students have the option to apply for a second or third term and to develop their individual Capstone Project. These projects allow students to focus on areas of individual interest and guide their own learning. We provide a space for a wide range of independent projects, and we are excited to hear proposals from students who are curious self-starters.
For more information, please visit our website: www.GrangeFarmSchool.org