Farm Hack Event Tool
Farm Hack Event Tool
Primary tabs

Submitted by dorn on Sun, 01/20/2013 - 3:10pm
Image: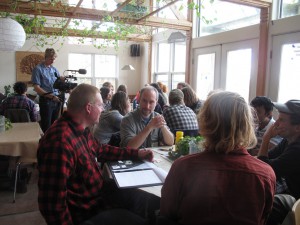 Exclude from the Tools list. This is "sandboxed".:
Why host a FarmHack event?
FarmHack is a fun way to share food and create solutions to local challenges by drawing on the diverse sets of skills already available in your community.
FarmHack builds a creative commons technology library that is available for anyone to use to adapt, modify and improve over time.
FarmHack makes available tools that would are either were never commercially available at an appropriate scale or quality, produced at one time but no longer commercially available, or have yet to have been invented because of recently available technology and manufacturing capability.
Farmhack enables the research is done on farms every year on farms, which is more than all universities combined, and document tools and problem solving, give credit for the effort, and share the results with the rest of the world by putting the knowledge into the public domain through a creative commons license.
Different types of events?
Farmhack events have primarily been about problem solving and design, but there are other possibilities that would serve the community well. Each of these will have their own unique requirements and flavor. Some examples:
Design events
Build Events
Skills events
Documentation Events
Software hackathons
Conceptual forums
Remember that documentation is the technology's DNA that enables it to be reproduced and adapt, evolve and hybridize with other technology so make sure that the event and the outcomes are well documented! The tool wiki provides a template for documenting both the problems and the approach to solve them. The template is here http://farmhack.net/tools/tool-template
What are the crucial elements of a successful FarmHack event?
Food and drink grown, brewed or otherwise made by the participants for sharing
The projects/problems/solutions developed will make an immediate difference in a local enterprise and everyone has a good time playing with, applying and expanding their own skills
New friendships are made between farmers, historians, engineers architects, software engineers etc. (see design criteria wiki here http://www.farmhack.net/forums/some-design-principles-open-farm-tools-and-questions-consider )
Insights, ideas, and approaches are documented so that the wider community can also benefit
What Skills are needed?
A group who can self organize and find ways to continue communication before, during and after the event
People who can expand their network to identify people with new technical skills depending on farm and technology focus: look for fabricators, manufacturers, electrical engineers, historians, designers, or others who round out the skills for the group
An individual and/or local organization that is willing to co-organize and take on most local logistics. This person/organization needs to be self-funded, or locate local funding or sponsorship themselves. Familiarity with local farmer/food community very helpful.
Steps for Organizing:
Identify a specific need/theme in the local farmer community that can be addressed by a farm hack gathering, or if a more general event is the idea, need to have specific goal/outcome.
Begin dialogue early: talk to relevant community players: local nonprofits, established farmers, extension agents, university people, student groups. Vet idea, get suggestions and flesh out scope and event plan. Also reach out to larger partners (organic farming associations, NCAT, USDA, FSA, or international equivalent etc).
Identify host farm & event participants – established, innovative farmer/s that will play host; other experts/workshop leaders and the topics they will cover.
Set up an event wiki page and start a forum topic about your event for your members to use for organization, documentation and follow up. http://farmhack.net/calendar and contact the Farm Hack team to list the event on the web site.
Find venue/s for event: often we have split time between a host farm, and a university or community space where brainstorming, internet use and documentation can happen. Size of event is typically 30-60 people. Be aware of how many people you want to attend, and what communities you want to be represented (farmers, engineers, extension agent, students, etc). Outreach directly to those communities, and be as personal and directed in your communication as you can (individual messages vs. large e blasts)
Coordinate meals and lodging (or find willing volunteer to help you do this) – get food donations to prepare meals with the group, or make it a potluck. Take advantage of open source community whenever possible – crowdsource places for people to stay the night through event forum; have cooking and other volunteer signups.
Share the Farm Hack video with participants prior to the event; this helps get people psyched for the event
Set-up pre-Hack phone call with RSVPs to walk through Farm Hack website together and offer a sense of what to expect. Even if only a few people are on the call, they will then be ambassadors the day of the event of the Farm Hack culture. Ask these folks to register a Farm Hack username and password prior to the call and send you their username so you can add them to important documents such as HackPad, a shared online document for Farm Hackers.
How to promote the event?
FarmHack events are an extension of your local network.
Think of ten people who you like to work with to work on developing a list of who they would like to get together with for a weekend
Look for a partner with a shared mission, ideally with a venue, who is set up to host events with insurance etc. (conservation districts/granges/universities etc.)
Use shared document (like pirate pad, google doc or HackPad) and share it with everyone who you are inviting during the planning process
Post your event and materials to the Events forum section of FarmHack and look for someone who has been to events to include in your promotion and planning
Ask folks within your network to donate space, coffee, drinks, snacks etc...
Start organizing a month or more in advance
Outreach
get event poster designed, with accompanying event blurb
start an event wiki page on farmhack.net and keep it updated
email blasts to farm hack, greenhorns and NYFC lists
larger listservs: comfood, any regional listservs (go through your contacts in nonprofit/government/service provider world). Farmer listservs.
go through universities, trade schools, community colleges: identify professors, departments etc that are relevant.
BE PERSISTENT – especially with farmers and busy professionals. They will need multiple reminders.
How do I communicate with partners and other organizers?
While collaborative planning is great, it's useful to have one or two people taking chief responsibility, or at least coordinating the event overall.
Use some combination of shared planning documents for agendas, schedules, attendee lists etc. and either use the forum or group e-mail lists to keep attendees informed
Use on-line polls to generate pre-event priorities, and post event feedback
Set up conference calls (services like freeconferencecall.com work well) or face to face planning meetings with shared documents open to document and organize
What is a good location?
Look for locations like granges, farms, or organizations that are set-up for groups and have a compatible mission that lend themselves to hanging out with food, drink and evening activities like bonfires, etc.
For brainstorming sessions, a comfortable spot with internet and space for presentations and group discussion is important.
Be sure to get the access code for the venue's internet prior to the event.
Other accommodations to consider: bathrooms, fridge, stove-top/oven, potable water, wheelchair accessible, supplies available for use (such as tables, chairs, easels), etc.
Potential funding sources
local coop/natural food groceries
local hardware, farm supply or farm equipment stores
local nonprofits or successful and large farms
natural foods companies (especially those based in the region)
local community foundations
local universities – sustainable ag institutes, departments, etc.
ask those who have organized similar events/projects in the community, or who have looked for funding in the past.
What about food?
Have the group cook and share as much of the food as possible.
Try to find a venue with a kitchen you can use, and organize the group to be involved in cooking and cleaning up meals
Find sponsors to have snacks and drinks that are out and available throughout the event.
Local groceries, restaurants, and coffee shops are usually willing to donate gift cards at least, and possibly sponsor your event
The more of the food or ingredients that is from the participating farms the better
What is a typical schedule and agenda?
First Day:
Introduction to farm hack (ideally from someone who has been to other events)
introductions to background and interests
if at a farm - then do a farm tour of technology and projects
Lunch
group reviews from interests organizes around three to four proposed projects
break into work groups
and report back on progress and get critiques of approaches
Record results into FarmHack website tool and forum sections
Dinner and social activity - music/bonfire/pig roast etc.
Sleep at farm or with other participants houses near by
Second day
Cook brunch together
break into work groups to revisit projects after critique
document and develop final presentation to the group
solidify next steps
hang out over light lunch
head back home at leisure ** Be sure to plan for enough time for participants to follow-up with ideas discussed early in the event, whether the night following the discussion or the next day.
AGAIN Remember that documentation is the technology's DNA that enables it to be reproduced and adapt, evolve and hybridize with other technology so make sure that the event and the outcomes are well documented!
What are the core elements of the FarmHack culture?
Biology before steel and diesel, software before hardware – is there a way to approach this problem by using biological systems that add to soil health – such as cultural practices like cover cropping, mulching, crop or animal rotations etc, is there an approach that eliminates hardware through greater systems understanding?
Holistic approach – does this tool make me enjoy working with it as much as getting the job done faster?
Designed to empower owner of tool to use, modify and improve – different from industrial tools which user does not own in the sense that there are aspects of the tool that are inaccessible to the user. If you can not modify a tool you do not really own it, but are just borrowing it from the system that created it.
Designed for transparent function – functional components are clearly laid out and purpose is clear.
Modularity – functions can be removed and replaced without reengineering entire tool. Tool function can be changed by adding or subtracting parts.
Adaptability- tools can be used for many functions and can be changed to new functions easily.
Design for Disassembly – modularity/if welded easy access to joint for cut/ no hidden bolts/ exposed bearings/belts/ Belt and chain tensioners have enough play to enable easy removal
Universal couplers/fastener spacing – use of standard quick connects for electronics/hydraulics/air lines/power take offs
Design with replicability in mind -- Could this part be recreated in a farm shop in a small town – Use of common dimension materials. for example design for welded and machined parts rather than castings
Use of "off the shelf" or commonly available components, or components that are or can be re-purposed – can a more easily sourced part do the job as well?