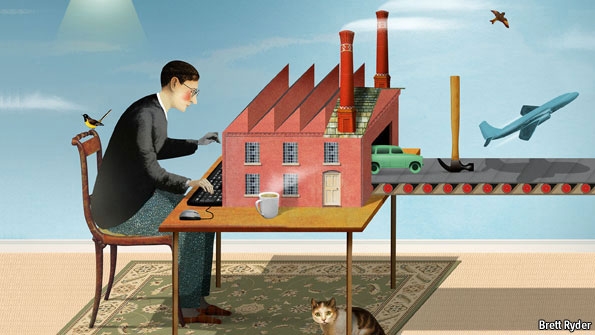 To put some perspective on the scope that 3D printing will have on our lives, here's an article from The Economist discussing this third industrial revolution.
Here are a few points I found especially interesting in the article:
"The factory of the future will focus on mass customisation—and may look more like those weavers' cottages than Ford's assembly line."
"The days when projects ground to a halt for want of a piece of kit, or when customers complained that they could no longer find spare parts for things they had bought, will one day seem quaint."
"The revolution will affect not only how things are made, but where. Factories used to move to low-wage countries to curb labour costs. But labour costs are growing less and less important... The Boston Consulting Group reckons that in areas such as transport, computers, fabricated metals and machinery, 10-30% of the goods that America now imports from China could be made at home by 2020, boosting American output by $20 billion-55 billion a year."